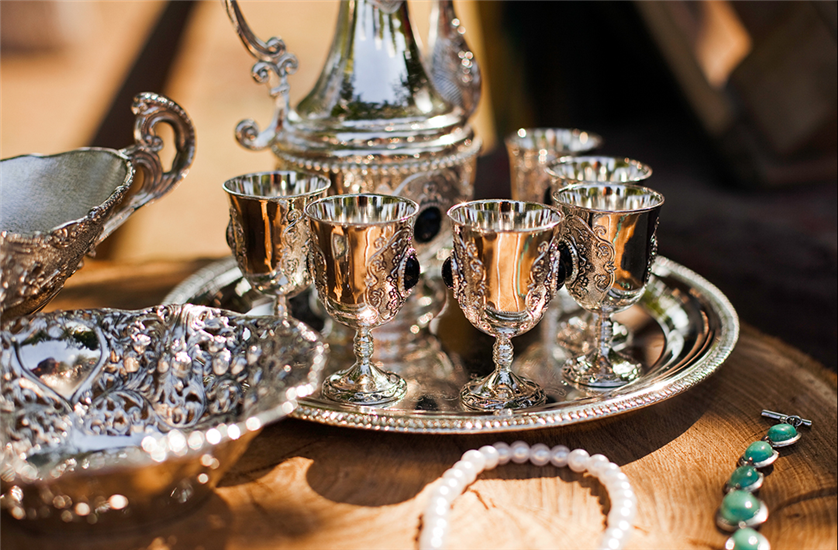 Antique silverware is a huge category, covering everything from bespoke antique silver cutlery through to mass-produced real silverware. Anyone just starting out with antique silver will benefit from reading a quality cutlery buying guide or learning more about the detail of selling antique silver spoons.
Read on to learn more about antique silverware and to get some top tips on how to sell old silverware to collectors.
Is Silver a Good Investment?
Antique silver cutlery can be a good investment – as long as the buyer understands the basic principles of antique silver and understands how to measure silver flatware value.
Most collectors looking at buying and selling antique silver spoons or other silverware aren't looking solely at silver as an investment. Sometimes the silver itself is more valuable than the piece of cutlery, but, more often than not, the value of antique silver cutlery lies with the item or set as a whole.
How to Tell if Silver is Real or Plated?
Buying silver advice often comes back to one question: what's the difference between sterling silver and silverplate?
All real silverware will have some silver in it. The difference between antique silver and more common silver-plated cutlery comes from how much silver is in it. Plated silver cutlery is made from a base metal then coated in silver. As you might expect, this is cheaper for the manufacturers and it's a good way for them to create a beautiful cutlery set they can sell at a more attractive price point.
On the other hand, sterling silver is pure silver, and that's generally what we're looking for when we're thinking of buying or selling antique silver spoons or other pieces of cutlery.
There are a few ways for antique silver buyers to tell whether the silverware they're holding in their hands is classed as real silverware or not.
Try these methods:
Can you find a hallmark? There's more detail on these below, but silver hallmarks are often a brilliant indicator of silver flatware value.

How heavy is it? Sterling silver feels much heavier in the hand whereas silver-plated cutlery will be much lighter thanks to the base metal at its core.

Is it magnetic? Silver is not magnetic, so if a magnet is attracted to the piece of cutlery, you're looking at a plated piece rather than one made from solid silver.
Buying silver advice will often focus on these three factors, but for anyone buying silverware from sellers on the internet, it's understandably difficult to undertake these tests. In these cases, don't be afraid to walk away from the sale if you're not satisfied with the supposedly antique cutlery on sale. Legitimate sterling silver dealers will be used to handling queries about the authenticity of their silverware.
What Do Silver Hallmarks Mean?
Silver hallmarks are an important way of telling sterling silver from silver-plated cutlery.
There are various types of silver hallmark we find across different silver products, and it's worth knowing about them in case you branch out from antique silver cutlery to other real silverware. These are some of the main ones:
Standard mark – This was set in the 14

th

century and is generally a lion passant for sterling silver certified in London, Glasgow and Edinburgh. Before 1975, sterling silver was certified with a thistle mark, and Irish sterling silver is denoted by the use of the crowned harp mark.

Date letter – Between 1697 and 1999 a letter appeared on sterling silver items to denote the year it was made. These letters don't mean much to the beginner, but they can be matched up with date ranges in official sterling silver records.

Maker's mark – On real silverware, the marker's mark is made up of the initials of a particular silversmith. These are differentiated by unique fonts and outlines, and there are silver cutlery buying guide websites available to help check whether these marks are legitimate.

Commemorative marks – Certain events are marked with a special commemorative hallmark, as in the case of the Silver Jubilee of King George V or the Millennium Mark.
If you look at a hallmark and are uncertain what it refers to, it's worth running checks to see if it's a legitimate mark or speaking to one of the many reputable sterling silver dealers in the UK to check its authenticity.
How Much is My Antique Silverware Worth?
Silver is often valued by the weight of the item under consideration, and silver scrap today only fetches around £2 per ounce, a tenth of its value half a century ago.
Yet when you're looking at how to sell old silverware, the detail of the item is often the deciding factor when it comes to value. Thanks to many pieces of real silverware being melted down or recycled, many collectors have gaps in their collections which your antique silver cutlery could fill. So solid silver cutlery value is often subjective, making pricing it difficult.
A good rule is to see what other such pieces with the same hallmarks have sold for and judge your piece against those.
Where Can I Sell Silverware?
Real silverware can be sold at antique centres, auction houses and specialist fairs, but it can also be sold online through marketplaces like the Decorative Collective. As a safe and secure marketplace, we protect antique silver buyers and sellers, bringing enthusiasts of all antique goods together in one place.