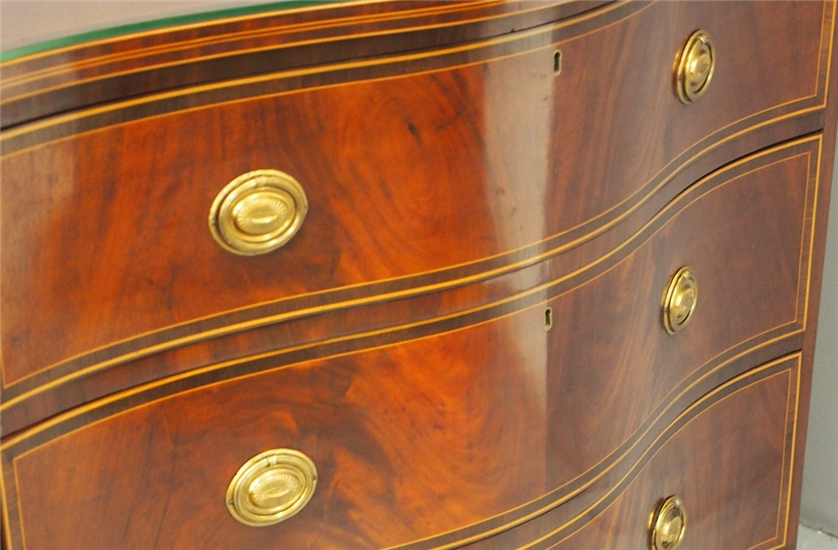 Georgian furniture is a neoclassical favourite that is still popular today. In fact, original bow-fronted chests of drawers have retained their value and are much sought-after by dealers and collectors.

In this blog, we look at how to recognise Georgian furniture, and consider the legacy of the era's best-known designers.
What characterises the Georgian-era of furniture?
The Georgian period lasted for over a hundred years, from 1714 to 1830 - 37. So-called because of the three consecutive King Georges on the throne, this era was prolific for furniture making.
Early Georgian furniture took its lead from the art and architecture of Italy. It was ostentatious in size and design, and was so expensive that only the rich could afford to buy it.
As time moved on, so did the style of furniture – and by the late Georgian period, the items being produced had transformed into something quite different-looking. This period is often referred to as the 'golden age of furniture'.
Chippendale and Hepplewhite were two of the biggest furniture designers during this period, and their names alone still count for a lot when it comes to buying and selling antiques.
Their style of furniture was much more elegant with shapely lines, brass hardware, and solid wood with beautifully carved designs.
A spotlight on the Georgian chest of drawers
Georgian furniture is still a regular feature in homes up and down the country, but in particular, antique mahogany bow-fronted chests of drawers are sought-after by collectors.
Mahogany was used a lot to make chests of drawers in the late Georgian period. Partly for its durability, but also because it's resistant to water and termites.
The Georgian chest of drawers is both functional and chic, and this raised its standing among the growing middle classes. By then, furniture was much more affordable than it had been at the start of the 18th century.
Bow-fronted drawers are distinguished by their outward facing curved front. Many of the pieces from the Georgian era had graduated drawers with splayed feet, brass hardware, and a pull-out shelf (also known as a brush slide).
Mouldings also feature heavily on chests of drawers from this period, particularly those described as ovolo (quarter round edge), and later, cock-beading.
Much of what you might think of when you imagine late Georgian furniture came from the brilliant mind of cabinet-maker and furniture designer, George Hepplewhite.
Who was George Hepplewhite, and what did he do?
Not much is known about Hepplewhite's early life, but we do know that he completed an apprenticeship with a furniture manufacturer in Lancaster before moving to London.
Hepplewhite is considered one of the big three furniture designers from the Georgian era, alongside his contemporaries Thomas Sheraton and Thomas Chippendale.
After his death, Hepplewhite's widow, Alice, published a catalogue of his work.
'The Cabinet Maker and Upholsterer's Guide' featured 300 of his designs, and it went on to become an important document for other cabinet makers in the years that followed.
Antique bow fronted chests of drawers with their graceful curvilinear lines are often credited to Hepplewhite. His designs also feature straight or tapered legs, and spade feet (or bracket feet on heavier pieces).
Most of his furniture was made with mahogany, and features contrasting veneers and inlays. Common motifs from this period include swags, feathers, urns, and wheat-sheaves.


How do you know what era a chest of drawers is from?
If you're on the lookout for a Georgian chest of drawers, these features will help you to identify the era and style of your prospective furniture.
Type of wood – Georgian furniture was almost always made from mahogany. There are some exceptions to this, so don't discount anything in satinwood, maple, or walnut.
Legs and feet – At the beginning of the 1700s, bun feet were popular, but later in the century, these were replaced by straight or tapered legs and bracket feet.
Mouldings – Mouldings along the edges of the drawers were popular in the Georgian period, particularly ovolo mouldings, and later, cock beading.
Handles – Swan handles were popular in the Georgian period, followed up later by a stamped brass backplate in a circular or oval style.
The handles on a piece of furniture are always a good indicator of the era it dates from, but be cautious because they may have been changed over the years. Look at the screw holes on the inside of the drawer front to determine whether the handles are original.
If you already have a chest of drawers that you're trying to date, you might be interested in this piece on how to look after antique wooden furniture.

Georgian chests of drawers – the legacy
The work of Hepplewhite, and other Georgian cabinet-makers, lives on in today's furniture design. Bow-fronted chests of drawers can still be found in high street furniture stores and online, but if you want the real deal you may have to look a little harder.
To narrow down your the search, we've dedicated a section of our website to showcasing antique chests of drawers from dealers around the country.
You'll find drawers here that date from the Georgian era, and pieces from the Victorian and 19th century periods that followed it. If you can't find what you're looking for, you also have the option of letting dealers know that you're interested in finding a particular piece.
Antique furniture in good condition is a worthwhile investment that you can expect to enjoy for many years to come. Not only are these pieces made to last a lifetime, but the individual touches from designers like Hepplewhite make them a joy to own.