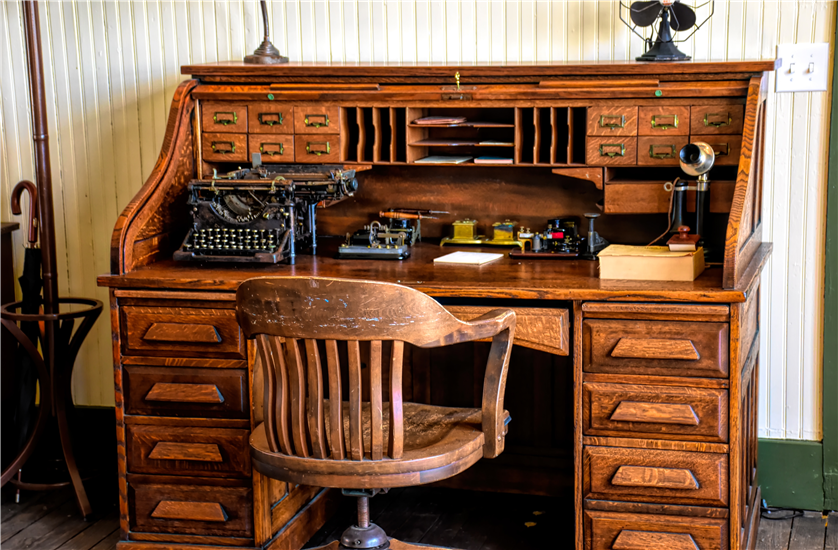 Do you dream about sitting down to write at an antique desk? Do you imagine being able to channel all the creativity of the people who have used the desk before you, and that somehow their words become yours?
What makes an antique desk so appealing is its tangible history. The marks, scuffs, and etchings of the people who sat there before you all add to its beauty.
It's why these desks remain so popular with antique collectors and consumers alike – both looking for a piece of furniture steeped in character to complete their study or hallway.
What are the most popular antique desks?
When you think of an antique writing desk, you probably imagine a grand partner's desk with ornate detailing or a slender ladies writing desk.
Antique desks date back hundreds of years, but the most popular styles were conceived between the 16 and 18th centuries, when furniture design really flourished.
Cabinet-makers like George Hepplewhite and Thomas Chippendale made their name during this period with designs that are still sought after today.
There are so many styles to choose from that it's easy to get lost in the number of options:
Pedestal desks
Partners desks
Bonheur de Jour (ladies' writing desk)
Secretaire desks
Roll-top desks
Bureau à Gradin
Every style of desk has its own defining set of characteristics that make it easy to identify (but a word of warning, these pieces aren't easy to date so do your homework and make sure that what you're buying is a genuine antique before you hand over your money).
How to identify an antique writing desk
In this section, we look at some of the most popular antique desks and their characteristics.
Pedestal desks
The antique pedestal desk has a flat writing surface with two pedestals on either side, that usually contain drawers. You might also see it referred to as a kneehole desk (so-called because of the space between the pedestals for tucking in a chair). The kneehole desk dates back to the Georgian period.
Partners desks
This type of desk was designed for two people to use at the same time with a large work area and drawers on both sides. Because it looks good from both sides, this desk would make a grand centerpiece in the middle of the room (just make sure you've got the space before you invest!)
Ladies writing desk
This elegant desk with slender legs shot to fame in the second half of the 18th century in Paris. It's also known as a bonheur de jour, which is French for daytime delight.
This desk has a raised back that forms a kind of cabinet with a nest of drawers or sometimes open shelves with a mirror. An English-style desk will typically have mahogany drawer liners, but French models are more likely to be oak-lined.
Secretaire desks
Antique-style secretary desks are typified by their drop-down writing areas which usually have hinges. Some are made from exotic woods like rosewood, tulipwood, and kingwood, but other hardwoods became popular later.
Roll-top desks
The late 18th-century roll-top desk is usually made of oak, mahogany, or walnut. These desks are popular for their storage which includes drawers, shelves, and pigeon holes. Typically this storage is hidden behind a rolling door or a shutter, which retracts vertically.
Bureau à Gradin
This type of antique writing desk has tiers of small drawers and shelves along the back of the surface area. The Carlton House desk is the most famous example of a bureau à gradin, which was reportedly designed by George Hepplewhite for the Prince of Wales. What makes the Carlton writing desk so popular is the drawers that wrap around the desk in a U-shape.
How do you pick an antique writing desk?
When it comes to choosing a writing desk, consider how you'll be using it. If you want a desk that you can sit at for long hours while you work then look for something that is big enough to fit your screen, a keyboard, and a laptop.
Today's workspace is full of 21st century equipment that needs to be stored somewhere, not to mention the tangle of cables that come with it. Antique writing desks are not designed to accommodate electrical items, so think about where you'll put your printer and other devices.
Of course, if you'll only be sitting at your desk occasionally then you can buy something to suit the room's decor without worrying about the functionality of the furniture. Consider how much space you've got available and whether the desk is designed to be positioned against a wall or whether, like a partners' desk, it's intended to be used as a grand centrepiece.
The juxtaposition of new meets old in interior design can make an impressive statement, but that doesn't mean any old chair will work with your antique desk. To get the most out of it, choose your chair carefully. There are plenty of antique desk chairs out there that fit the bill.
Late 19th century swivel desk chairs with upholstered seats are some of our favourites.
Antique writing desks – the bottom line
Sitting down at an antique writing desk feels very different to sitting at an MDF table from a big budget store. When you sit at an antique desk, you're joining a long line of people who used it before you to do something similar.
Whether you're working, paying a bill, or writing your Christmas cards, doing it at a desk with a long history feels like it carries greater importance.