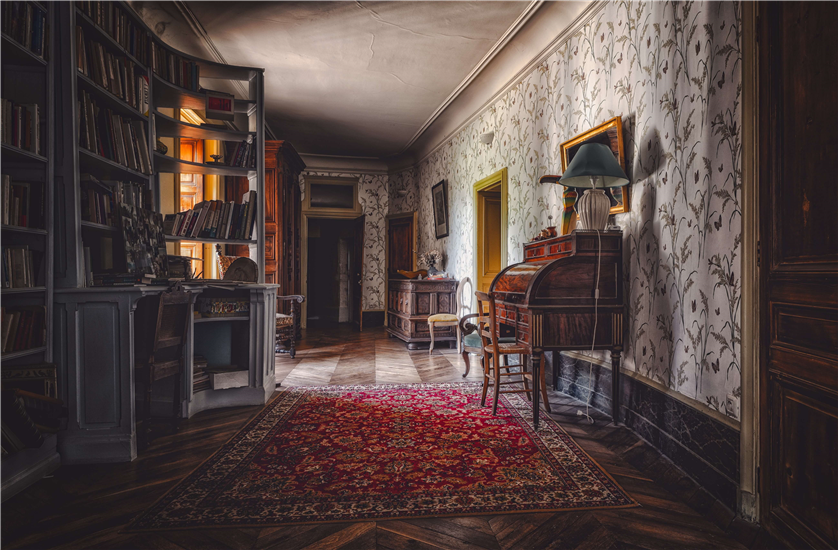 There is a lot of terminology out there for antique furniture, which can leave you struggling to find the right thing if you aren't sure what it all means. Whether you want to learn about antiques, are selling some or want to start collecting vintage furniture, getting to grips with the terminology can really help.
To make this easier, we've created this handy A to Z guide of common antique furniture terminology that you can refer to.
Acanthus
Acanthus is a carved ornament featuring leaves (modelled on the acanthus plant). They are typically found at the top of Corinthian columns and were popular additions to mahogany furniture from the Georgian, Victorian and Edwardian periods.
Apron
When it comes to furniture, an Apron refers to a decorative element that is often found below the seat rail if a settee, chair, cabinet or table. Aprons on antique furniture can be plain or have added decorative details, such as filigree-style carvings.
Alabaster
Alabaster is a form of the mineral gypsum. It is typically white or grey and slightly translucent. Often used in decorative items and sculpture, alabaster can be polished up to create a smooth and attractive finish.
Armoire
An armoire is a style of wardrobe. This type of wardrobe typically comes from France.
Ball foot
A ball foot is a simple ball-shaped foot on furniture. This type of foot was popular in the 17th century and can often be found on tables or cabinets from the period.
Ball and Claw Foot
This style of foot for furniture features a claw or talon gripping a ball. It can be found on various types of antique furniture, including tables, chests of drawers and desks.
Bamboo Turning
Bamboo turning is a method of turning wood to make it look like bamboo. It is usually painted to enhance the effect.
Banding
Banding is used to add decoration to furniture and refers to either edging or an inlaid border added to wooden furniture. Often, it will be made of different wood from the rest of the table.
Bolection Moulding
This type of moulding projects past the face of a panel or a frame. It is commonly found on doors, panelling and fireplaces. It is especially common when the meeting surfaces of furniture are at different levels.
Bombe
Bombe means "curving outward", "bulging" or "bombe-shaped". It is a French term used to describe pieces that feature an outward swelling curve at the front. This creates an attractive look and the style is often used for bureaus and commodes.
Bracket Foot
A bracket foot is a common foot type used on chests and cabinets. The foot has an outward straight right angle but the inside of the foot is curved to create a simple but attractive style.
Braiding
You'll find braiding on various upholstered items, including chairs and footstools. It is the decorative fabric used around the edges of the upholstery where the fabric meets the wood.
Bun Foot
Bun feet are used across a wide variety of furniture. They resemble a slightly flattened ball and can be plain or feature carved details.
Cabriole Leg
A Cabriole leg is stylised after the hind legs of animals and is recognisable by its double curve. This style of leg looks like an elongated letter S, creating an elegant finish. Typically, the feet used on cabriole legs are ball, claw, hoof, bun or scroll styles.
Cabochon
Cabochon are usually found on the knees of chair legs to add an extra decorative touch to furniture. They are smooth, gem-shaped carvings.
Caning
Common on summertime furniture and chairs, caning is the use of rattan or sugar cane to create a wickerwork effect. The cane is woven to form chair seats or other furniture.
Canted
Canted furniture has a slanting edge and is often shown on the corners of chests of drawers. The bevelled edge adds a subtle decorative effect.
Cartouche
A cartouche is an ornamental motif that is typically carved into furniture. Most cartouches are oval-shaped and will have curved or scrolling edges. In some cases, a cartouche will feature a coat of arms, inscription or an ornamental monogram.
Cornice
Commonly found at the top of cabinets, wardrobes and bookcases, a cornice is a horizontal moulding.
Crown Moulding
This decorative finish is the highest moulding on a cabinet, door or window. It gets its name from the fact that it crowns the top of a piece.
Dentil
Dentil moulding features rectangular-shaped "teeth" or blocks carved into furniture under the cornice.
Dovetail
Dovetail is a method of constructing drawers by carpenters and is common in antique furniture. Uneven dovetailing typically means that the pieces were carved by hand so a piece of furniture is older. Even dovetailing is generally the result of machining, which indicates a newer piece.
Ebonising
This is when a dark stain is used on wood to make it look like ebony.
Egg and Dart
Egg and dart is a type of decorative moulding used on various pieces of furniture. The decorative motif features egg shapes alternating with dart-like points.
Embossing
Embossing is when wood and leather are stamped or hammered to make a decorative design protrude from the surface.
Escutcheon
An escutcheon is the metal plate fitted around keyholes. They add a decorative touch but are also used to protect the keyhole from damage. Typically, escutcheons are made of brass.
Fielded Panel
A fielded panel is a flat central field that is outlined by bevelled edges. This detail is often used on cabinet doors and antique coffers.
Finial
Finials are ornamental knob crownings that are often used on the top of pole screens, stools chairs or stretchers on a table. They can be carved wood or metal.
Fluting
Fluting often features on the straight legs of tables or chairs. It is a decoration that sees parallel, concave grooves running vertically down a column shaft.
Gallery
Galleries are ornamental railings that are placed around the edge of a piece of furniture. They can be made of metal or wood and look like railings you'd find on a balcony or similar.
Gadrooning
This is when a repeating pattern of small diagonal, twisted or vertical flutes is carved as a border decoration. Gadrooning is a common feature around the outside of tables.
Gilding
Gilding is when an object is decorated with a thin layer of gold or gold leaf. It is commonly used to decorate ornamental mirrors or photo frames.
Inlay
An inlay is a common feature across many types of wooden furniture. It is when a thin layer of wood in a contrasting colour is used to create a pattern on the surface of a piece of furniture.
Japanning
Japanning is when painted details were added to furniture to imitate designs from the Far East.
Linen Fold
Linen fold is a type of carved decoration that looks like folded linen.
Lions Mask Carving
As the name suggests, a lion mask carving is a decorative carving that is shaped like a lion's head. It is used across different wooden antiques, including fireplace surrounds.
Marquetry
Marquetry is when a veneer is created using different woods in various shapes to create decorative patterns.
Ormolu
Ormolu is a French phrase meaning ground gold. It refers to brass mounts on furniture.
Pad Foot
A pad foot is a simple type of foot, often used on chairs and tables. It refers to a style of foot where a club is resting on an oval disc.
Patera
Pateras are usually carved or inlaid details. They are round or oval in shape and incorporate details like flower petals or fluting leaves.
Patina
A patina forms over the surface of antique furniture over time. It forms naturally over metal, wood and other materials as a result of use, wear, exposure and natural oils.
Pediment
A pediment is a decorative detail usually added to the top of cabinets. It can feature scrolls and be highly decorative.
Pilaster
A pilaster is a flattened column used purely for decorative purposes rather than to give structural support.
Relief
Relief refers to a decoration that is raised from the surface of a piece of furniture. It can be carved, stamped or moulded so as to protrude from the surface to form a pattern.
Scallop Shell Carving
Scallop shell carving is essentially a carving of an oval or semi-circular shell with ridges, similar to a real scallop shell. This was a common ornamental touch used during the Queen Anne and Georgian periods.
Scumble
This is a type of paint finish that was used to create the effect of wood grain. It is an early furniture painting method.
Shield Back
Common in Hepplewhite designs, shield back refers to chairs where the back is in the shape of a shield.
Stringing
Stringing is a type of decorative inlay that is used to form very fine lines.
Zebrawood
This is a type of wood that naturally features unusual stripes in the grain. It is very striking no matter what furniture it is used to create.