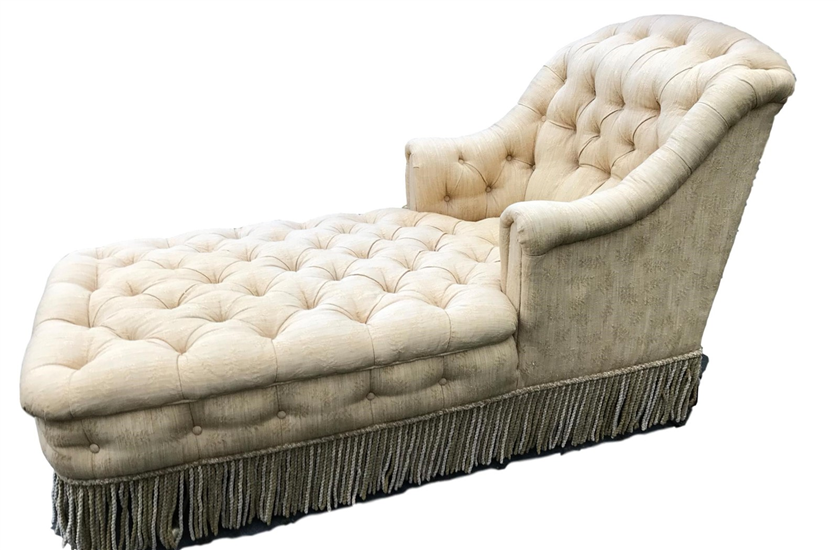 The chaise longue has a history stretching back thousands of years, although its spelling and pronunciation is often still up for debate. Even so, the basic principles of the chaise longue remain, no matter how you say the name. It's essentially a long chair, designed for relaxing and associated with luxury. So, let's indulge in a little chaise longue history and find out how you spell it depending on the country you're in.
Where Does the Name Come From?
The origin of the name is straightforward – it means "long chair" in French. While the history of the chaise longue goes back far further than 16th century France, the name we're familiar with for this piece of furniture dates from that time.
One issue you quickly encounter when searching for chaise longue is the tendency for them to become conflated with daybeds. We'll go into the different types in more detail below, but the accepted definition of chaise longue comes from the French designer and it has at least one backrest to enable the user to recline and relax.
What About the Spelling and Pronunciation?
Common questions about whether it's "chaise longue or lounge" and the proper chaise longue pronunciation can often overshadow this piece of furniture, so let's cover it quickly.
A question often asked is 'How do you spell chaise lounge?' The reason "chaise lounge" has developed as an accepted variant is that the English imported the word and persistently mangled it to the point that both versions are seemingly acceptable to many people now – although lovers of the French language may disagree!
As for chaise longue pronunciation, it can differ between English and French pronunciations but "shayz long" and "shez long" are both used.
The plural forms of the word can become complicated with "chaise longues" and "chaises longues" both featured in dictionaries – this can make searching for a guide to chaise longues trickier than it needs to be.
Short History of the Chaise Longue
To find the first incarnations of the modern chaise longue, you have to look all the way back to Ancient Egypt and take a foray through the worlds of the Ancient Greeks and the Roman Empire.
Chaise longue history has been uncovered in Egyptian tomb excavations with examples of the chair dating back to around 3000 BC. Archaeologists discovered long chairs which would have consisted of a wooden structure and an ebony or ivory veneer for the wealthier while other Egyptians would have had similar furniture made from wicker or palm sticks.
Fast forward to Ancient Greece in 800 BC and we find a long chair known as a kline or a klinai. These were draped with fabric and stacked with cushions against the headrest for men to recline while in social gatherings. The Romans had a different name for a chair they used for a similar purpose: they called it the lectus.
So, chaise longue history demonstrates there has always been a demand for chairs which make relaxing a luxury, and that was brought into the British home after being imported from France. Early French chaise longue were designed for male aristocrats to relax with friends, although they took on more feminine connotations from the 1800s onwards. They became a French status symbol, especially when ornately crafted with expensive materials, and the UK became eager to import that luxury.
Different Types of Chaise Longue
There are three distinct types of chaise longue: Méridienne, Récamie and Duchesse Brisée.
The most familiar is probably the Méridienne with its single headrest and a backrest which generally tapers off and gives the chair an asymmetrical appearance. It allows the user to recline without fear of falling either backwards or sideways, and these chaise longue are usually upholstered for maximum comfort.
A backrest at either end of the chaise longue is the defining feature of the Récamier. It's a symmetrical piece of furniture with no back and this style was popularised by Madam Récamier when she posed on one for a portrait.
Finally, the Duchesse Brisée translates as the "broken duchess" and it incorporates two or three separate pieces of furniture – two chairs and sometimes a footstool in between – which can be used together or separately.
One further point – the difference between chaise longue and daybeds is that daybeds are generally completely flat without a headrest or backrest. Some are advertised as chaise longue, but just be aware they don't fit into the strict definition.
Modern Chaise Longues
In the contemporary home, the chaise longue remains a piece of furniture associated with luxury and elegance. For anyone recreating a stylish boudoir or focused on antique décor, the chaise longue is often a valuable addition to the room. Fans of period drama, too, can bring the chaise longue into their home – there's nothing quite like watching a duchess reclining on a similar item to the one you're relaxing on too.
Decorative Collective - Your Trusted Antique Marketplace
If you're searching for chaise longues or daybeds, don't forget to check Decorative Collective. As a trusted marketplace for antique dealers to buy and sell items, we have a huge range of chaise longues and every other piece of antique furniture imaginable – new stock added daily.