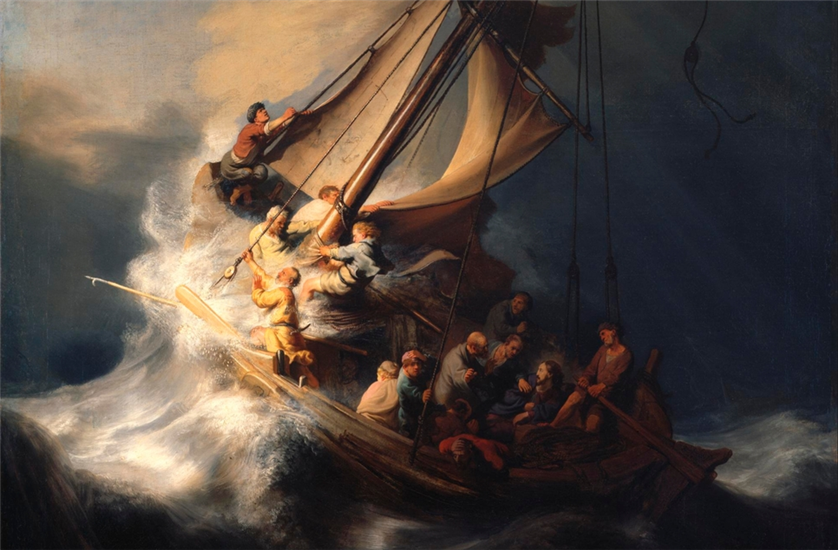 Art heists and Nazi lootings are the stuff of big-budget movies and best-selling books, but sadly these stories are more fact than fiction.
Over the last century, thousands of paintings have been stolen from museums and galleries. Worse still, they remain missing, and it's unlikely they'll ever be found.

In this post, we look at five of the world's most famous stolen paintings.
1. The Storm on the Sea of Galilee by Rembrandt
Rembrandt is one of the world's best-known painters from the Dutch Golden Age. In 1990, his historical painting of Christ on The Storm on the Sea of Galilee was stolen from a museum in Boston, Massachusetts.
Two men pretending to be police officers gained access to the museum and stole the Rembrandt and several other paintings, including a piece by fellow Dutch artist Johannes Vermeer.
2. Harlequin Head by Picasso
In 2012, the Kunsthal Museum in the Netherlands was the venue for one of the biggest art heists in history. Thieves stole seven major works by Monet, Matisse, and Gaugin – among them was Picasso's Harlequin Head.
Though the perpetrators were later apprehended, the artworks are still missing. Rumour has it that Picasso's oil painting met a fiery end at the hands of a mother attempting to destroy the evidence of her son's involvement.
3. Portrait of Francis Bacon by Lucian Freud
Francis Bacon was a revered Irish-British painter who made his name on the London art scene in the 1940s. He sat for several portraits in his lifetime, but the most famous picture was stolen from a gallery in the late 90s.
Portrait of Francis Bacon by Lucian Freud was taken from a gallery in Berlin in 1988. The painting by Bacon's close friend and fellow artist, Freud, has never been recovered.
4. Springs Winter by Jackson Pollock
Two pieces by Andy Warhol and Jackson Pollock were among the paintings stolen from a Pennsylvania museum in 2005.
The thieves were able to enter through a door at the back of the building covered by a tent erected as part of an event. The abstract expressionist piece, valued at around $11.6 million, was on loan from a private collector when it was stolen.
5. Portrait of Mlle. Gabrielle Diot by Degas
French Impressionist Edgar Degas, famous for his delicate pastels and oil paintings, is among a long list of artists whose work was confiscated by the Nazis during the second world war.
His Portrait of Mademoiselle Diot was taken from the Paris gallery of a Jewish art dealer in 1940. The painting resurfaced in an art magazine in 1987, where it was listed for sale, but attempts to recover the piece by the dealer's family have been unsuccessful.
Are these works lost forever?
There is a harsh reality to these blockbuster-esque art heists. Behind every theft are artists, dealers, and collectors personally affected. The cultural and historical significance of these losses has an even wider impact.
Sadly, efforts to recover stolen works are often unsuccessful, but the art community is not ready to give up hope yet.