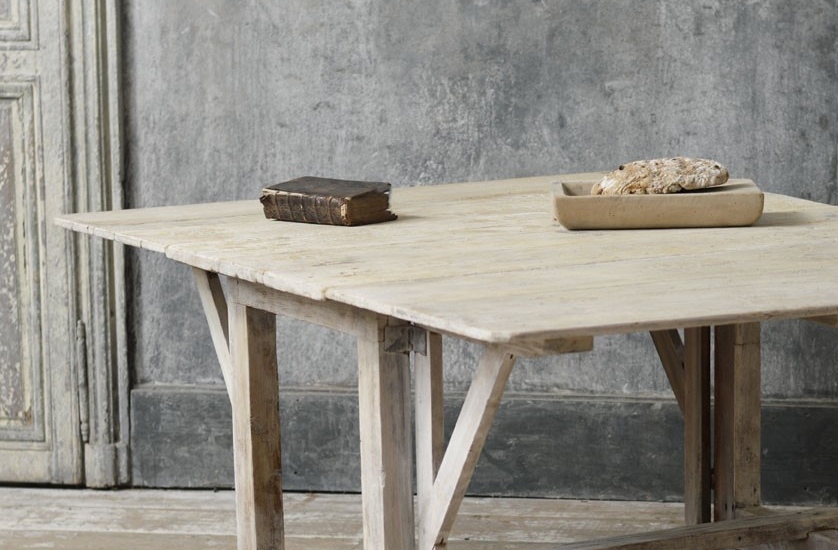 A type of table with a history dating back to the 16th century has definitely stood the test of time, and the drop leaf table is one such piece of furniture. As a functional yet stylish piece, the drop leaf table has been a staple of homes for hundreds of years, and it doesn't show any sign of disappearing just yet. So, what is a drop-leaf table?
What is a Drop Leaf Table?
Just as the name suggests, the drop leap table includes a drop – this is a physical description of the way sections of the tables fold down, so it's as much of a practical descriptor as anything else. As well as that, though, the name sounds elegant and that adds to the impression of the drop leaf table as a classic piece of home furniture.
How Does a Drop Leaf Table Work?
A drop leap table has a fixed section in the centre which is attached via hinges to additional sections on either side. Sometimes, there's only one hinged section but the spirit of the drop leaf table remains the same – the hinged sections fold down to help reduce the amount of space taken by the table and allowing it to be used at full capacity when necessary.
Why is it Called a Leaf in the Table?
The "leaf" dates back to the 16th century and the way the hinged section of the table looked like a leaf when folded down. While this may not be an accurate description for some types of square or rectangular tables, the name remains and it's the accepted moniker for these tables of section tables.
Types of Drop Leaf Table
There are three distinct types of drop leaf table that you'll find in homes and commercial locations: dining tables, desks and side tables or bedside tables. Let's look at all of these in turn:
Drop leaf dining table – By far the most common type of drop leaf table you'll find is the drop leaf dining table, housed wherever a family eats. As many people live in smaller households, the space-saving opportunities offered by a drop leaf dining table often trumps other considerations. The option to extend a drop leaf table for special occasions like Christmas and birthdays means the space can be utilised only when needed and doesn't take up valuable room all year round.
Drop leaf desks – These types of desks are an ideal small desk solution because they can be reduced in size when not in use. Again, they're useful for locations where space is limited, but they can also be transformed into small tables for other uses when the leaf is raised. As a versatile option, a drop leaf desk is an excellent choice.
Drop leaf side table – Side tables and bedside tables are an important element in every home, but at times the amount of usable space we need on those tables is bigger than the table itself. As few people would choose a huge table just for rare occasions when they need the increased space, a drop leaf side table or drop leaf bedside table provides a space-saving alternative.
Of course, these aren't the only uses for tables in the modern home or business, but the drop leaf table's versatility means it's a great option for anything.
Reasons to Have a Drop Leaf Table
We've mentioned the drop leaf table's versatility a few times now. So, why are drop leaf tables so useful and why would you want one in your home or business?
Practicality – Drop leaf tables are easy to extend and put away without the need for specialist tools. As well as this, the multi-functional possibilities for the drop leaf table from dining on the full table through to letting the kids play on the main section in the corner mean it's useful for every facet of daily life.
Stylish – Just because a table is highlighted as a practical drop leaf table, it doesn't mean it can't be as stylish as the rest of your home or business is. There are a wide variety of styles and shapes available, allowing you to choose something that suits your décor and preferences.
Space-saving – The drop leaf table is undeniably a space saver, making it an excellent choice for any home where space is limited or where you'd rather have the extra floor space available than a large table cluttering up the place constantly.
A drop leaf table can be a brilliant addition to any home or business. The big question is, which one will you choose?
About Decorative Collective
Decorative Collective is your one-stop-shop for drop leaf tables with a huge range online. Our trusted marketplace allows you to buy and sell antiques and collectibles with confidence and, best of all, dealers add new items daily. What will you discover?