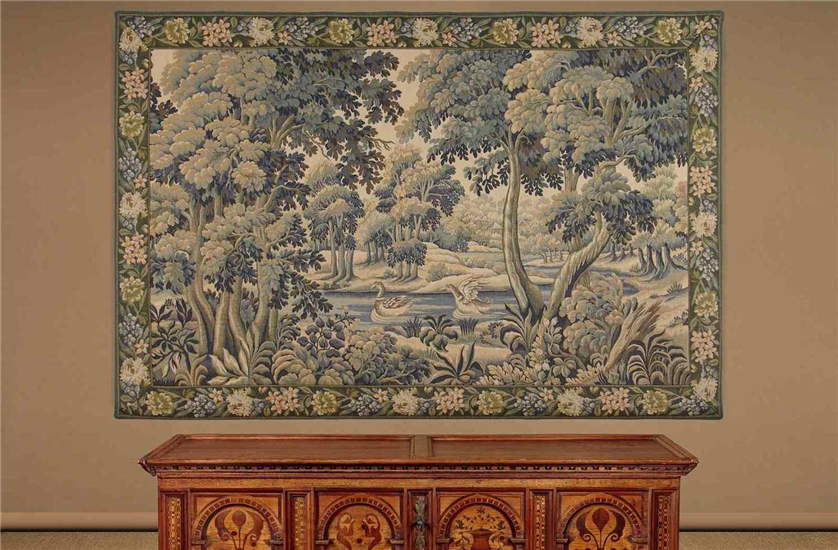 How to hang a tapestry – three options
Tapestries have been used to add warmth and create an interesting aesthetic in castles and manors for hundreds of years. But they are no longer reserved for the elite. Wall hangings are enjoying a renaissance among today's interior designers and decorators.
They come in various sizes and designs. Woven hangings are heavier than printed ones, which will partly determine how you hang them.

Here, we look at the three best ways to hang a tapestry.
1. Rod and brackets
The type of woven wall hangings you might think of when you imagine a tapestry requires sturdy fixings. Most quality woven tapestries come with a sewn-in rod pocket and a fabric backing.
Like you would with a curtain, thread a rod through the pocket and hang from brackets on your wall (remembering that this will mean your tapestry stands away from your wall).
A rod with finials adds a prestigious element to your tapestry, elevating it to a higher standing.
2. Push pins or nails
To hang a printed tapestry, use push pins or nails. Some lightweight tapestries come with built-in fabric loops, so you don't have to damage your wall hanging by puncturing it with a pin or nail.
Consider adding your own if your tapestry doesn't come with built-in fabric loops. Use velcro or command strips if you don't feel confident adding your own fabric loops.
This alternative to hanging a tapestry is both cheap and easy to execute.
3. Frame your tapestry
Bring attention to your tapestry by framing it in the same way you would a piece of art. This contemporary way of hanging a tapestry uses a box frame. This type of picture frame is designed to fit 3D pieces, providing depth and visual emphasis.
For lightweight wall hangings, consider stretching it over a wooden or metal stretcher frame. Stretcher frames are typically used for canvas paintings, consisting of a rectangular frame that provides support and tension to the artwork.
Where to hang your tapestry
Hundreds of years ago, tapestries were used to keep out draughts in cavernous halls and stone-built castes. Today's tapestries are valued for their aesthetic appeal, providing a decorative focal point where there isn't one.
Wall hangings are best used to add visual interest to large, expansive walls – over the sofa in a reception room or above your bed, for example. In fact, they're frequently used as a stylish alternative to traditional headboards.
They also make captivating statement pieces when strategically positioned in entrances or hallways.
To keep your tapestry looking its best for longer, avoid hanging it in direct sunlight, as this will fade the colours in your textile. A light hoovering or dusting is all your tapestry needs to stay clean.
The final word on hanging a tapestry
Tapestries – old and new – make beautiful adornments to modern interior design. How you hang your tapestry says a lot about your space. Framing it will elevate your tapestry to a higher standing, giving it pride of place among your other artworks. Push pins or nails are adequate for a lightweight wall hanging if you have a more informal interior design style.
Photo used courtesy of Collinge Antiques