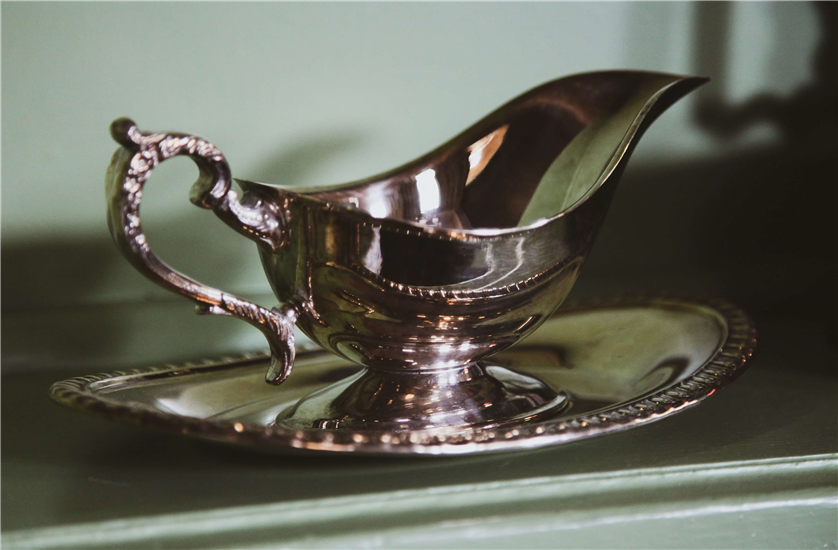 How to Look After Antique Silver
Antique silver can easily add a touch of class and elegance to your display cabinets, dining table and partyware. This is why vintage silver items continue to be popular. However, it doesn't stay looking bright and brilliant on its own, which is why you need to know how to look after them.
This isn't to say that caring for antique silverware has to be difficult. In fact, regular use can actually help with its maintenance, meaning you have the perfect excuse to enjoy your silver cutlery, candlesticks, serving trays and anything else you have to hand.
So how do you look after your solid or plated silverware? Here's what you need to know about keeping your silver looking great for years to come.
Why Does Sterling Silver Tarnish?
If you already have antique silver in your collection, you're likely already familiar with how it can tarnish. Silver's lustre can be covered with a brown, black or even blue-purple tarnish when it hasn't been looked after.
This isn't a flaw in the silver as pure silver would never tarnish. This doesn't mean that your pieces aren't made of silver, just that they are not pure silver - which is usually the case as pure silver is too malleable to use.
Antique silver is usually a silver alloy, in that it has been mixed with other metals to improve its strength and durability, and to stabilise it. Sterling silver is exactly that and will be stamped with the ".925" mark, which means that it is 92.5% silver, with the rest being made up of other metals.
It is these other metals that cause the tarnish, which is a chemical reaction. This can reaction can be caused by moisture in the air or by chemical contact, such as cleaning products in the air or a lotion on your hands.
While you can reduce the humidity of the silver's environment and avoid it coming into contact with chemicals that could cause it to tarnish, you'll always need to clean your silverware.
How Do You Clean Silverware?
One of the best ways to stop tarnish from forming is to regularly clean your silverware. This is easy to do as silver items tend to be nice and strong. You also don't need any special equipment or cleaning products. In fact, using abrasive cleaners or polish when your silver isn't tarnished could damage it, so it's worth avoiding them.
Generally, you should dust your silver regularly either with a clean soft brush - which is the best option for very ornate pieces - or by rubbing lightly with a soft cloth, which will help get rid of fingerprints and dirt.
If you need to give your silver a good clean, you can do so in hot soapy water. Follow this up by rinsing with hot water to remove any dish soap residue before drying thoroughly. Finish the process by buffing the silver with a soft cloth to leave it shining.
How Do You Remove Tarnish From Silver?
If your silver is tarnished, standard gentle cleaning isn't going to do the trick. You'll need a product designed to remove tarnish from silver, which comes in different forms. When looking for the right polish, you want to choose one that leaves a protective coating on the silver as this will help the results last longer.
Once you have your product, you'll need to follow the instructions for the best results. However, it's worth checking if you like how the silver looks with the tarnish removed, as sometimes a touch of tarnish can help highlight details and add some character.
Start off by testing the cleaner on the bottom of your silver item so you can see how it turns out. This will also mean that any reaction or damage is hidden. If you're happy with the results, use your polish on the visible surfaces.
It's important to remember that tarnish-removing polish is very abrasive and can permanently damage antique silver. This is why you shouldn't use it regularly and should instead use the above cleaning method to keep tarnish at bay.
When should you talk to a silver specialist?
In some cases, your silver may be incredibly fragile or quite tarnished, meaning it can be difficult to clean. It may be that home restoration won't work well or could risk damaging your silver, which you want to avoid - especially if you're planning on selling it.
If you're not sure about the best way to clean your silver, if an item appears damaged or you just want to know if it is worth the upkeep, it could be a good idea to contact a specialist. They will be able to tell you more about your silver, clean it safely and possibly even perform repairs.
It's a good idea to have an idea of the value of your silver before having it cleaned professionally though, especially if cleaning chemicals could damage it. Getting it valued will help you find out more about it, give an idea of its worth and could give you more insights into the best way to care for it.