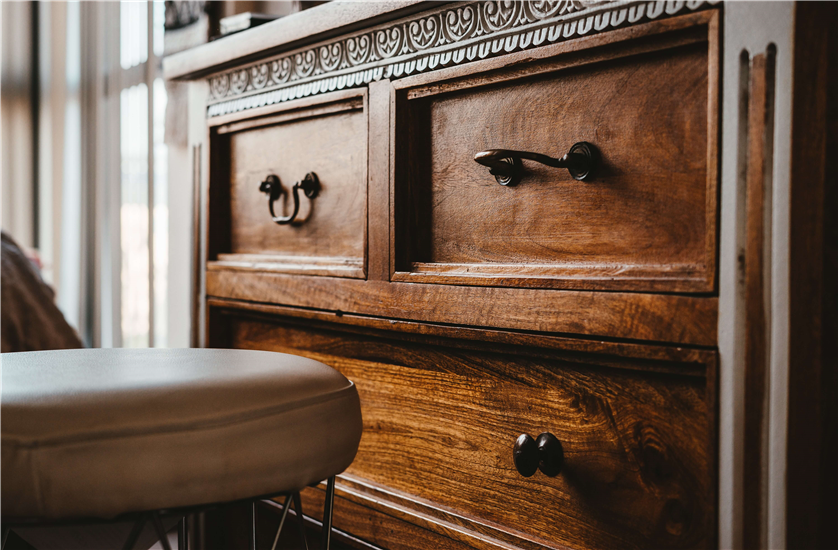 We all have something from an older time that we cherish. Whether it's a family heirloom or something picked up from an antique shop, these pieces are no longer relegated to the attic or garage but are proudly displayed throughout the home.
An antique's distinctive style makes it stand out from the rest of your furniture and not only because they're old pieces but also because most were handcrafted with great attention to detail.
Antique and vintage furniture makers often use unique components like claw-foot legs, scrollwork details as well as intricate wood carvings or other special touches. When combined with modern furniture, it creates a dynamic look that's both functional and beautiful.
But when it comes to placing this in your home, how do you bring together the old and the new with perfect balance? Mixing modern and antique furniture in one room is not as difficult as it may seem. You just need to know how to go about this task, and we're here to help.
Keep it brief
When you mix styles, you want to make sure that the majority of your furniture is one style or the other. If you mix too much, it can become a jumbled mess that doesn't make any sense. To keep your home looking organised and clean, make sure that you keep the amount of furniture you're mixing to a minimum and build from a focal point.
Mix shapes and sizes
Another way to avoid the furniture looking like it doesn't belong together is to mix the shapes and sizes of the furniture. For example, an antique console table with a modern dining table or chairs.
You can also mix the sizes of the furniture to create visual interest. For example, you could place a small antique chair next to a large modern sofa. This can look really great as long as you make sure they are not too close to each other or it may look like they are competing with each other for attention.
How to make modern furniture look antique
Are you struggling to find the right antique piece? Perhaps creating your own is the right option for you, allowing complete control of an item's look. Here are our top tips.
Use dark finishes
Traditionally, furniture was finished in a rich, dark stain. Depending on the type of wood, you could create a similar look by staining your furniture in a rich colour from deep mahogany to a light cherry colour.
New finishes are usually a light colour so they won't give your furniture any antique characteristics, but using a rich, dark finish, you'll achieve an antique appearance in no time!
Utilise ageing effects
If you want your furniture to look old, you can make it appear as though it's antique by ageing it yourself. To simulate scratches, use a soft-bristled brush to apply diluted black paint over the surface of your furniture. Scratching off the paint with a soft cloth will leave behind a scratch mark that looks like it's been there for years!
Add antique-looking trims and ornaments
If you want to make your furniture look even more aged, you can add antique-looking trims and ornaments by either glueing or screwing them to the surface of your furniture.
Ornaments and trims can be almost anything, such as stones, shells, coins, beads, feathers, or even changing its handles. You can also use fabrics to create decorative trims – silks, ribbons, and tassels are all beautiful alternatives.
Try an antique rug
Antique rugs can help tie your mixed furniture pieces together and add a unique touch to your home. Rugs are incredibly versatile and can be used in a variety of rooms and furniture arrangements whether in front of your modern sofa or behind your antique coffee table, they'll make your room look complete.
As a sneaky tip, if your wooden floors have the odd scuff or stain an antique rug can be useful for covering up all types of marks. With their wide variety of sizes, patterns, and colours, you can find one that suits your home perfectly.
The key takeaway
When you mix antique and modern furniture, you open up a world of possibilities. You can use the antique furniture to anchor the room and place the modern furniture around it or flip it for the opposite! The combinations are endless so have fun experimenting with different furniture arrangements to determine which ones work best for your home.