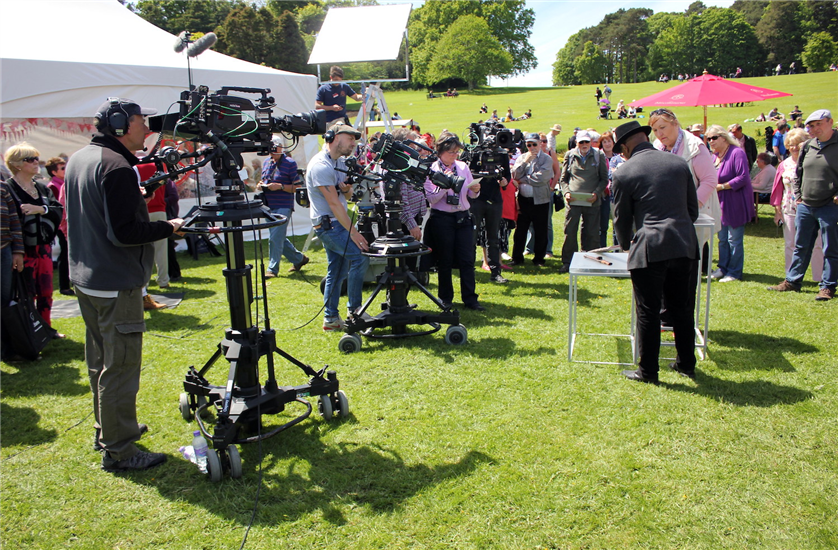 Antique shows are hugely popular on British TV, amassing millions of viewers weekly. The thrill of discovering items in unusual places and finding they're worth a fortune is something we all want to see!
Keep reading for our list of the top five antique shows on TV right now.
1. The Repair Shop
The Repair Shop has been winning over viewers since it first aired on the BBC in 2017. The show follows furniture restorer Jay Blades and his team as they attempt to breathe new life into items brought in by members of the public.

Most hold great sentimental value, and the show delves into the stories of the people behind the artefacts. From antique furniture and figurines to a scientific microscope and a Venetian glass goblet, the team of skilled craftspeople at The Repair Shop can resurrect pretty much anything.
All episodes of The Repair Shop are free to watch on the BBC iPlayer.
2. Antiques Roadshow
It would be unthinkable not to include Antiques Roadshow on a list of shows about antiques. This iconic show has been around since 1979 and has amassed a loyal fan base who tune in every week hoping to see someone make a fortune.
The premise of the show is relatively simple. Members of the public bring in items they think might be worth something, and the show's experts appraise them. According to the BBC, up to 20,000 items are scanned at every show, but only 50 are picked for filming.
You can watch the latest series of Antiques Roadshow on the BBC iPlayer.
3. Salvage Hunters
Drew Pritchard has been the face of this show since it began in 2011. Dubbed a modern-day treasure hunter, Pritchard scours the country, looking for items he thinks could be valuable.
He takes the items back to his base in Conwy, where his team restores them. The 60-minute episode concludes with an update on how much the item sold for in Pritchard's shop or at auction.
Salvage Hunters still airs on the Freeview channels, Quest and Really.
4. Fake or Fortune?
Fake or Fortune? first aired on the BBC in 2010 and is now in its 10th series. On the show, Fiona Bruce and expert Philip Mould join forces to investigate whether that week's work of art is fake or genuine.
In one episode, the team exposed a fake Rodin thought to be worth £100,000. Experts cast doubt on the piece's authenticity, leaving the owner wondering if her fortune is really a fake. It's edge-of-your-seat stuff, so it's no wonder millions of people tune in every epsidoe.
You can watch Fake or Fortune? for free on the BBC iPlayer.
5. Bargain Hunt
If you're a fan of daytime TV, this show is for you. Initially fronted by iconic British presenter David Dickinson, Bargain Hunt has been a BBC staple since 2000. This is the only show in our list that has a competitive element.
Two teams go head-to-head to see who can make the most money at auction from items they've acquired at antique fairs. The idea is simple – try to grab a bargain and increase your profit margin!
Watch Bargain Hunt on the BBC iPlayer for free.
Featured image reused under the Creative Commons Licence. Attribution: Recording the Antiques Roadshow at Plas Newydd by Jeff Buck