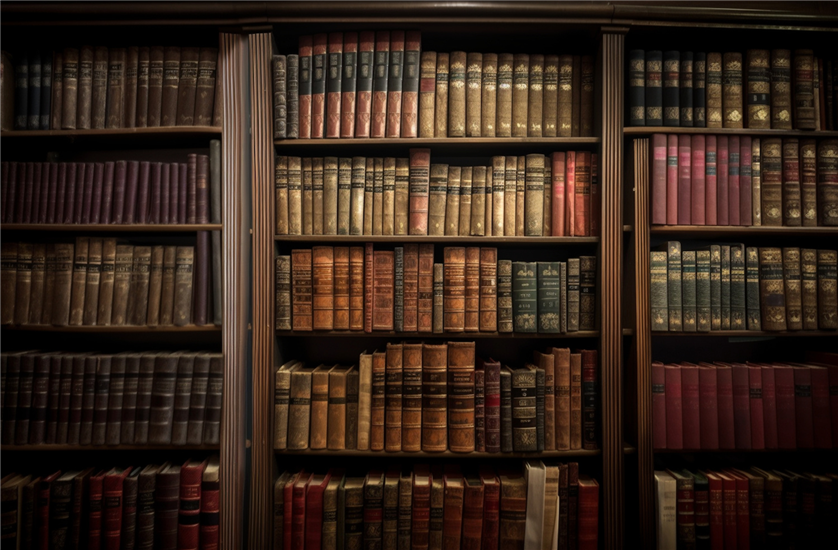 If you can't imagine leaving a bookshop empty-handed and you've amassed more books than you know what to do with, storage will no doubt be an issue for you.

One of the many reasons people turn to e-books is that you don't need to find a place to store them (or have to dust them!). Yet printed books have a certain charm you don't get when you download a book.
You might expect the popularity of printed books to have waned somewhat in recent years, but in fact, millions of books are still sold every year around the world.
This guide looks at the antique bookcases worthy of storing and displaying your books.
Breakfront bookcases
The defining characteristic of the breakfront bookcase is the central portion which projects further forward than the sections to the left and right. This type of bookcase first appeared during the Georgian era when furniture designers like Chippendale and Hepplewhite made a name for themselves.
It usually consists of four cupboards split into top and bottom halves. The top half has glass front doors, and the bottom has panelled doors. The earliest breakfront bookcases were mahogany, but later versions from the Regency period were made from walnut.
This piece of furniture is as ornate as it is practical. With an antique glass front bookcase, you can proudly display your books without them gathering dust.
Antique bureau bookcase
The Georgian period is also responsible for the antique bureau bookcase – similar to the breakfront bookcase because its top half is glass fronted. Below its glazed doors sits a bureau full of exciting features that make it ideal for work and study.

Pigeon holes, leather writing surfaces, pen pots, and lined drawers can be found on some of the finest examples of the bureau bookcase. These pieces are usually made from mahogany, with some rare examples crafted from walnut.
During the Edwardian period, the antique bureau bookcase became more fashionable, giving rise to new interpretations and styles.
Antique revolving bookcase
The antique revolving bookcase dates back to the 19th Century during the late Victorian period. It rotates 360 degrees and has four open sides for easy access. These cleverly designed pieces have a flat top so they can double up as a lamp stand or side table.

Antique revolving bookcases are typically made from sturdy woods like mahogany or oak, so like most antique furniture, you can expect them to stand the test of time.

Decorative and practical in equal measure, the rotating bookcase may be smaller than a breakfront bookcase or an antique bureau, but what it lacks in stature, it makes up for in its design.
Antique bookcases – the key takeaway
If you're a keen collector of printed books, there's no better place to store and display your collection than an antique bookcase. Perfectly befitting of the printed word, your antique bookshelf will give you as much pleasure as the books on it.

If you're considering investing in an antique-style bookcase, you might find this piece useful for looking after antique wooden furniture.